Postcard Views
The 1960's Postcard of Mystery Hill in north Salem, NH
This postcard dates from when the site was known as "Mystery Hill Caves" in the 1960's. This photo is important because it shows this part of site prior to the re-arranged of several of stone slabs in this area. There is no slab leaning against the groove stone, and shows the structure on top of the so-called "Sun Deck" (right rear of photo) has not having a roof stone as it currently does.
Circa 1972 Postcard Series of Mystery Hill in North Salem, NH
View of Triangular Storage Chamber ("V-Hut") on left and the East-West Chamber on right.
The triangular stone in the foreground has subsequently benn removed since this photo was taken 1971.
1970 excavation unit which found charcoal in association with Native American quarrying activity.
The charcoal was C-14 dated to 2120 +/- 95 B.P. (170 B.C.)
6 feet wide by 8 feet long grooved stone with a spout. The grooved was carved using hammers stones.
South Facing Storage Chamber.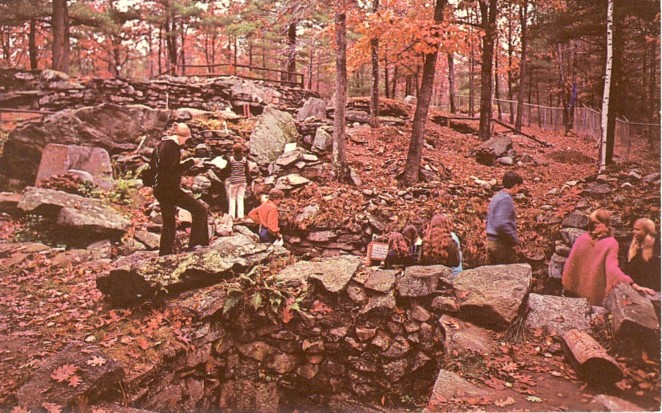 View of the Sunken Ceremonial Unit. In the foreground is a stair case into the unit (blocked off by the stone wall) which has subsequently been backfilled. The stone wall across the stairs was originally thought to be erected by Mr. Pattee when he built his house over the ruins circa 1825. However, recent research has suggested that wall was erected the Native Americans when they closed the ceremonial unit down. Visitors are no longer allowed to explore inside the unit for safety reasons
This 1969 excavation adjacent to the Collapsed Chamber yield Native American artifacts in
association with charcoal C-14 dated 2995 +/-180 B.P.
Winter Solstice sunset alignment standing stone.
Starting from the left is "The Puplit" which is a half circle enclosure,
in the middle is the an unnamed chamber,
and on the right is the Mensal Stone (more correctly described as a tilted roof chamber).
View of the East-West Chamber. On the far right is a large stone slab placed in a vertical position. This is the correct original position of this slab. Today it has been re-position (incorrectly). Next to the tree on the right is stone a propped up. This may be the stone described as the torso of a woman which has since been removed.
The site has and continues to be used on occasion for various rituals.
In this case the post card identifies this as ritual being held by the Alexandrian Sect of WICCA.
1994 Tradecard